Utrecht
About two millennia ago there was a Roman settlement at the location of present day Utrecht. When the Romans lost power, activities and population disappeared, until in the early middle ages. English monk Bonifatius and his followers transformed the ruins into a base for the Christianization of Frisians, the inhabitants of the northern part of the Netherlands. This resulted in some baptismal ceremonies, in some serious violence inflicted upon the monks and in many "signs of appreciation" (land donations) by worldly leaders. This explains the former wealth of the religious orders based in Utrecht, something still reflected in the high amount of churches and the impressive spire of the former Cathedral, the Dom church. 
The many churches and the narrow streets still makes one feel like being in a medieval setting. However, where the monks had to find there pleasures inside the walls of their monastery, we nowadays can be delighted by a walk along the canals and feel the positive vibe of a city endowed with a large student population and a good number of restaurants and bars. Utrecht combines the best of the past and the present.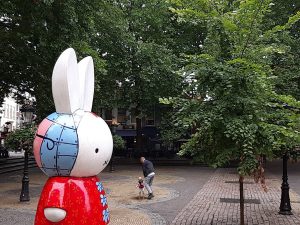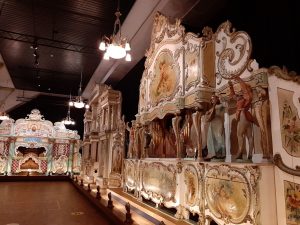 Tours
Utrecht 1
Highlights of the historic center
What we will see on this tour: the old warehouses along the canal below street level, the building were the Declaration of Independence of the Netherlands was signed, The Convent Garden of the Dom church and the the spire of that church, the highest one of the Netherlands. The music in the video of Utrecht comes from one of the many organs of the museum Speelklok. We will pay a short visit to this fun museum. The last site of this tour will be a former urban stronghold, transformed into brewery and pub. A perfect place to inform you about small breweries in the Netherlands.
Duration: 1.30 hour
Utrecht 2
Looking for Miffy
Many of us grew up with the stories of little rabbit Nijntje, outside the Netherlands known as Miffy. Her spiritual father, writer and designer Dick Bruna, has lived his whole live in Utrecht. No wonder there is a Nijntje Museum and at various points in town we will come across statues of Nijntje, of course every time dressed in a different way. 
Duration: 1.30 hour
Utrecht 3
Bike tour along the river Vecht from Utrecht to Breukelen (on location tour only)
During this 15 kilometer bike ride along the small but very picturesque river Vecht we pass by parks, mansions and castle Oud Zuilen. We include a stop for a drink at one of the nice bars along the river. After two hours we arrive at the charming village Breukelen, the place which name was Americanized to New York Brooklyn. From Breukelen we take the train (10 minutes) back to Utrecht. 
Duration: 3 hour
Breukelen and Brooklyn Wikipedia
Videolink https://youtu.be/1u59px_UZdI