Gouda
Yes indeed, the Gouda cheese does originate from Gouda. In the old days farmers came once a week downtown to sell their "yellow gold". Still today, this weekly market is celebrated, nowadays as a tourist attraction. Those who flew with Dutch Airline KLM for sure are familiar with the "stroopwafel". The cradle of this cookie with caramel between the two layers stood in Gouda. 
Hard to imagine that a town with less than a hundred thousand inhabitants once surpassed Amsterdam in both population and wealth. Gouda's golden age was the period 1400-1600 when  trade between Holland and Flanders was massive. Thus, the shipping route between these two regions belonged to the most important ones of Europe. You guess it, Gouda was at the center of this "ship's highway". After 1600, due to political problems, the trade came to an end, the party was over. The city hall and the St Jans church still testify of the wealth once bestowed on Gouda.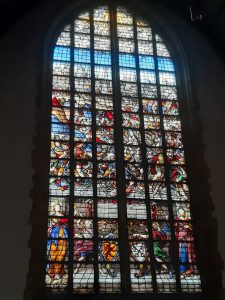 Tours
Gouda 1
Highlights of the historical center
In this tour we will get acquainted with the history of Gouda and with it's most important buildings like the almost 600 years old city hall and the longest church of the Netherlands, the St Jans. In this church we will pay attention to some of the marvelous seventy-two stained glass windows. Questions to be answered: what do we see, who paid for the window and why? 
The tour ends with "a special" on food: the Gouda cheese and the stroopwafel.  
Duration: 1 hour
Gouda 2
Bike along the lakes (on location tour only) 
The top layer of soil in and around Gouda consists of peat, a very soft organic substance. Due to wind and human intervention, peat has gone and water came in. This proces took hundreds of years and resulted in a set of photogenic lakes near Gouda. Small historic villages on the merges of these lakes make the traditional Dutch scenery complete.
Duration: 2 hours