Amsterdam
Before 1300 Amsterdam was a small settlement of fishermen along the river Amstel. The construction of a dam in that river meant that goods had to be transferred from one ship to another. This generated work and trade, the origin of Amsterdam as a town of trade, finance and transport 
In the 17th century Amsterdam was probably the wealthiest city of the world. The opportunities for financial benefits and the welcoming attitude to immigrants made the town a most desirable place to those who suffered suppression at home. Thus, Amsterdam became a very international town. It still is. 
Although the National government resides in The Hague, Amsterdam is the capital, a title granted to Amsterdam by Luis Bonaparte, brother of Napoleon and first king of the Netherlands. For a capital, the population of Amsterdam is rather low: less than a million inhabitants. The combination of a small scale, a beautiful historic center and a very rich cultural life, makes this town almost irresistible to culture lovers.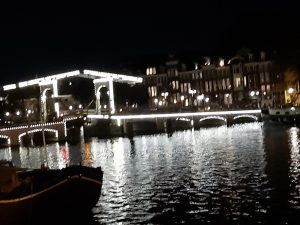 Tours
Amsterdam 1
Highlights center of Amsterdam
Many highlights in a small area. Just to mention some of them:
*Anne Frank house (outside)
*Dam Square with the National Palace
*the 9 little streets with their original shop t
*Former convent of the Beguines (Begijnhof)
*Flower market
*17th century canals
*Antiquity street.
Duration: 2 hours
Website Royal Palace Dam Square
Amsterdam 2
Amsterdam Canals
The Amsterdam Canal area is on the UNESCO list of World Heritage. No wonder, there are over 8000 monumental houses and warehouses along these canals! At first glance you might think you just entered a giant open air museum but soon you will realize that the area fully participates in modern urban life. We will pay attention to houses with a special story. And we will visit one of the canal house museums, either Huis van Loon or Huis Willet Holthuysen.
Duration: 2 hour
Website Museum Willet Holthuysen
Videolink https://youtu.be/cTy_j3UxKxg