Delft
During the middle age the water surrounding Delft was of excellent quality, which gave rise to the foundation of many beer breweries. Good times came to an end when the canals and rivers were used as open sewage, indeed the middle ages are not really known for high standards of hygiene. Beer had to be brought in from cleaner places. Good luck for Delft: in the 1600 wealthy Dutch got crazy about Chinese porcelain and some entrepreneurial citizens from Delft managed to create a -at that time- cheaper version of the one from China, the still famous Delft Blue. 
There is another color connected to Delft: orange. It was in Delft were the founder of the nation, William of Orange, was murdered and buried. Many kings and queens did follow.  
Rembrandt, Van Gogh and Vermeer: the three best known Dutch painters. Vermeer was born and buried in Delft.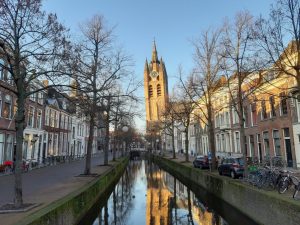 Tours
Delft 1
Highlights historic center Delft. 
This tour starts at a former monastery, the place where the founder of the nation, William of Orange, was shot in the year 1584. After a fifteen minutes walk including the Old Church, the canals, and the monumental city hall, we enter the so called New Church -"only" 600 years old- to admire William's mausoleum. We will end with a visit to a Delft Blue work place where we will see a painter at work.
Duration: 1 hour
Delft 2
Looking for Vermeer
Where did Vermeer live? Where did he paint "View on Delft" and "The Little Street". Where did the maid go for fish and meat? This tour will answer these questions. We will also enter the Old Church -beautiful stained glass windows- where Vermeer was buried.
 Duration: 1 hour
Vermeer Wikipedia
Website Old and New Church 
Delft 3 (on location tour only)
Delft Blue.
A tour for shoppers. You can buy fake Delft Blue everywhere in town, but to get the real Delft Blue pottery, you have to be where the pottery is made. In this tour we will visit 3 workplaces. 
Duration: 2 hours